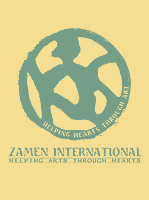 ZAMEN INTERNATIONAL
ZAMEN INTERNATIONAL was launched in 2007 after Yama Rahimi was doing research in Afghanistan and found the lack of support for young filmmakers.
After doing a successful "Seminar on Cinema" at the University of Kabul, YR wanted to continue his support and Zamen was born. Unfortunately due to personal reasons and the political situation in Afghanistan, ZI was put on hold.
ZI will be relaunched in 2019 with hope to help artists in Afghanistan and beyond where it can help.
MISSION
Long-term assistance for the Arts in countries without funding for the arts in areas of development, education and infrastructure. Long-term goal is to help schools and universities build a strong and sustainable art program, facilitating and coordinating resources, faculty, advanced curriculum and technology on a need basis.